Welcome to my website and eBook
'Foot Reading and Visual Reflexology'
This website contains the posts that make up the chapters of my ebook 'Foot Reading and Visual Reflexology' and you can read the book here by subscribing and becoming a member. 
ABOUT THE ONLINE BOOK
All the blog posts are found in the members area of the website, which you will be able to access once you have subscribed. You can read each post there in chronological order, just as you would the chapters of a physical book. Follow these links if you'd like more information about the theory posts and the practical posts of the book. To read about why I decided to publish the book online this way, watch the video below or continue scrolling down. 
Other pages of the website give an introduction to visual reflexology and details of my training workshops.
If you have a question about subscribing and membership CONTACT me. Or scroll down below the testimonials for more info. and list of blog posts.
What some reflexologists think of the blog...
"Angela has a wealth of knowledge and expertise to share in an innovative way. This online blog and unique e-book gives an opportunity for constant updates to the latest findings and teachings around the subject of Visual Reflexology. It is fascinating information for new and experienced reflexologists alike!"
"I am a reflexology student but still found it really easy to follow. I'm really glad to have this way of learning how to foot read from the start of my career. Loving the extra links & videos"
"I'm blown away with Angela's knowledge of how to read feet and I am thrilled that she's started this Blog. It is so informative, fascinating and amazing to have the concept of visual reflexology at our fingertips. I can't wait for the rest of the blog posts to come out."
The book consists of two parts, the first is the theory part about why to foot read, what it adds to your practice and to the profession generally. And the second part is the practical part about how to foot read, which explains in depth what all the things we see on the feet are telling us about the health and well being of clients.
The posts that make up the first part of the book are all written and ready to read. The second part has been started, with the first two posts ready to read. Members will be notified when subsequent posts are uploaded which will be approximately one per month until the book is finished.
The website also provides an introduction to foot reading and to visual reflexology, and information about my training workshops.
The Advantages Of Digital Publishing
 I'm publishing 'Foot Reading and Visual Reflexology' online because digital media is such an exciting medium in which to share knowledge.
 It offers so many new ways of sharing information, allowing the use of interactive learning methods such as videos, podcasts, member forums and Q&As, as well as links to other teaching websites and the potential of running webinars. I can constantly add new content and instantly update the old, and use unlimited amounts of colour photographs and charts.
And it means there can be input not just from myself but also fellow members, and guest bloggers from within the field of foot reading and from other areas of reflexology.
All these things are incorporated into the blog posts which comprise the chapters of the book, so there is limitless potential for including so much more than I could do in a non digital medium.
Example of a Colour Photo with Coded Legend for Foot Reading
On the photo below I have annotated some of the visual manifestations it is possible to read on this foot, and then added a colour-coded legend.
In the blog posts that comprise the chapters of the online book, I use these type of annotated photos and legends to give foot readings. So add detailed explanations are added to explain why these various textures and colours are occurring where they are, and what they are telling us about the health of the reflexes.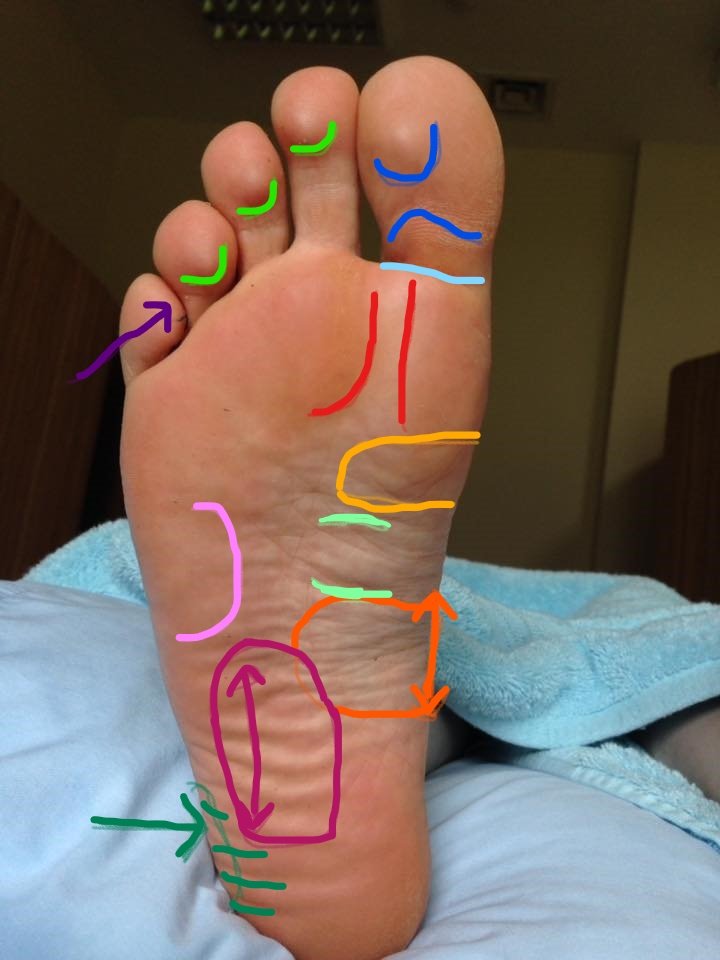 Compressed 5th toe –  Pressure jaw & shoulder joint
Swollen Sinus Pads
Swollen Pituitary(or Hypothalamus) & inverted V base of the cranium
Angle of neck –  slight lateral inclination 
Ridge of hard skin lung zone 2 & pale coloured skin up thyroid 
Curving U shaped lines/shadow over stomach/pancreas
P
ea shaped swelling over adrenal/kidney
Congestion in liver zone 5
Multiple fine lines emanating from spine across small intestine zones 1/2/3 
Rippling grooves across abdominal area/intestines zones 3-5
Compression lines from gluteal muscles – pressure > hip
Interactive Learning Tools
You can watch videos that I've made such as the one below, which demonstrate different ways to work on the feet based on what we see at the reflexes. I can also post videos and podcasts from other foot readers and reflexology tutors.
Comment Sections, Member Forums and Q&As
There is the possibility for everyone to be involved, with a comments section after each post where members can engage with myself and other subscribers. In this section if you wish you can comment, ask questions, request further information on related subjects, post your own photos etc. In fact, the comments section will be mini forums much like in the Visual Reflexology Facebook group that I run. 
In the blog posts, I will be looking into every aspect of foot reading and visual reflexology in much more depth. Each post will be the equivalent of a chapter of the book. Once you have paid for your 1st year membership you will always be able to access the online book here.
The first section of the book is comprised of theory posts explaining why reflexologists should learn to foot read and how best to use this skill in your reflexology practice and within the wider context of the profession as a whole. These posts are already written and available to read.
The second section of the book is comprised of the practical posts and how to actually read the feet. They cover all the different aspects of foot reading, including what to look for and how to interpret what we see. I have started these, but others are yet to be written and will be uploaded gradually until the book is finished. Members will be notified as soon as each one is available to read.
Follow on posts will be continued after the core book has been finished. There will be new posts on the subject monthly from either myself or guest bloggers. As long as you are a subscriber you will also have access to all of these.
The blog posts that comprise the two sections of the book are listed below
First section of the book: theory Posts
Introduction to Visual Reflexology
How do Health Issues Manifest Visually?
How to Carry Out a Visual Assessment
Photographic Records
Reading Different Energies on the Feet
Overview of Uses
Uses & Applications in Your Practice #1 2 & 3
Ethical Guidelines
Second section of the book: Practical Posts
Initial Presentation
Muscles & Joints
Toes Part 1
Toes part 2
Lines
Colours

Skin Textures
Underlying Tissue

Marks & Freckles 
Veins & Capillaries
Pregnancy & Fertility
Right-Left Balance
Whole Foot Analysis
 Underlying anatomy
Nails
Chinese Meridians
Energetic Reactions
Techniques Based on Observation
Other Ways of Foot Reading
The Future

Angela Telford
Angela has been a therapist since 1987 and a reflexologist since 1992, and has been teaching the visual side of reflexology for the last 6 years. She runs the Visual Reflexology Study Group on Facebook with over 4000 members, and leads Visual Reflexology workshops all over the UK and Ireland.
For full background information on Angela, members can check out the introductory blog post the author.